This is a relatively easy thing to do! It's possibly the easiest fancy-looking dessert I've made. My dear cousin thinks creme brulee has a higher fancy/easy ratio, but I'm not sure. It's a close call ;) They both use lots of eggs though, so it's a win any way you look at it when you're hoping to use eggs up ;)

I got my starting working recipe for cream puffs from various places. This is what I ended up doing when I made these for the first time.

PUFFS

1/4 lb. butter (one stick)
1 c. boiling water
1 c. flour
1/4 tsp. salt
4 eggs

CREAM FILLING: (many recipes also suggest using instant vanilla pudding mix ... I might make a true vanilla pudding next time, and add the whipped cream to that, instead of this filling - it was a good start though, and was certainly tasty!)

1/3 c. flour
1/2 c. sugar
1/2 tsp. salt
2 c. milk
2 eggs, slightly beaten
1 tsp. vanilla

WHIPPED CREAM:

1 cup heavy cream
1/4 cup confectioners' sugar
1 teaspoon vanilla extract

CHOCOLATE ICING:

2 (1 ounce) squares semisweet chocolate (2 oz, total) (I used the good stuff last night. I don't know how prevalent the chocolate taste was, and whether it requires the good stuff)
2 tablespoons butter
1 cup confectioners' sugar
1 teaspoon vanilla extract
~3 tablespoons hot water (I used about 1T and 1t, I think, to start with...)

PUFFS:

Add butter to boiling water until it melts.
Add flour and salt all at once. Cook, stirring vigorously until mixture is smooth and forms a ball, and pulls away from the side of the pan.
Cool slightly.

Add eggs, one at a time, beating vigorously after each egg is added, and egg is fully incorporated.
Beat until mixture is smooth.
Drop batter onto greased cookie sheet (or on parchment paper or a silpat) to form the size of cream puff you want. I used a mini ice cream scoop, which it turned out was exactly 1T in size. You could easily use a pastry bag with a large hole at the end too. You can make eclairs by piping long fingers of pastry batter.

Bake at 400 degrees for 15 minutes. Turn down oven to 350 degrees and bake an additional 15 minutes. For larger shells use tablespoon and add 10 minutes more to each baking time. (I did 25, then about 20 - they were a rich golden brown when I took them out.)

Not quite done yet: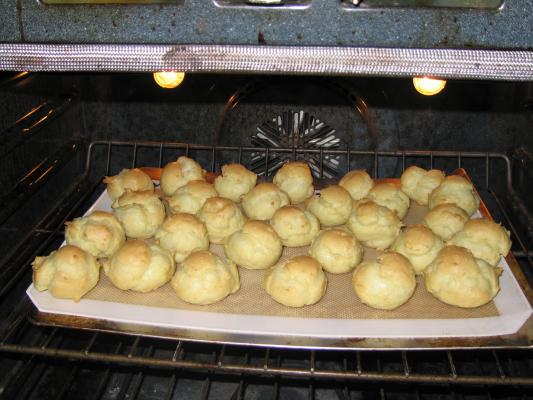 Getting closer!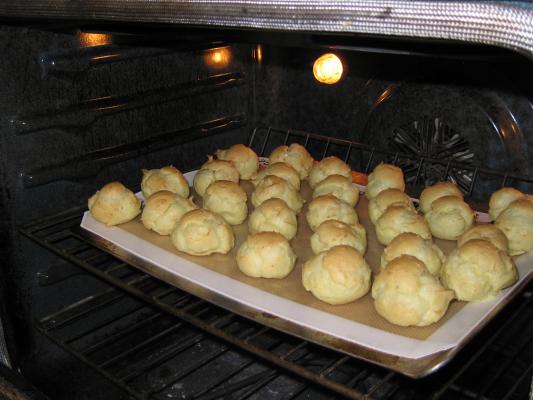 Done!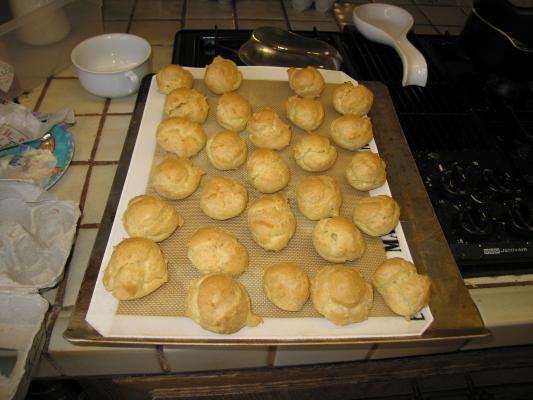 Other option, which was part of the original recipe: Bake at 450 degrees for 15 minutes. Then lower temperature to 325 degrees and bake for 25 minutes.
I poked holes with a wooden skewer in each puff when they came out, to let steam escape.
Let cool completely.
CREAM FILLING:
Mix flour, sugar and salt in a sauce pan
Slowly stir in milk.
Cook, stirring until mixture boils; boil for two minutes. (keep stirring it and get down in the corners or you'll have flour clumps down there)
Stir a little of hot mixture into eggs (to keep the eggs from cooking the moment you pour them into the hot mixture), then return to hot mixture, stir until thick, add vanilla.
I put the cream into the freezer while I made the whipped cream, so it would cool quickly. I don't know if that's required, but I suspect it didn't hurt!
In a separate bowl, beat the cream with an electric mixer until soft peaks form. Beat in 1/4 cup confectioners' sugar and 1 teaspoon vanilla. Fold whipped cream into pudding.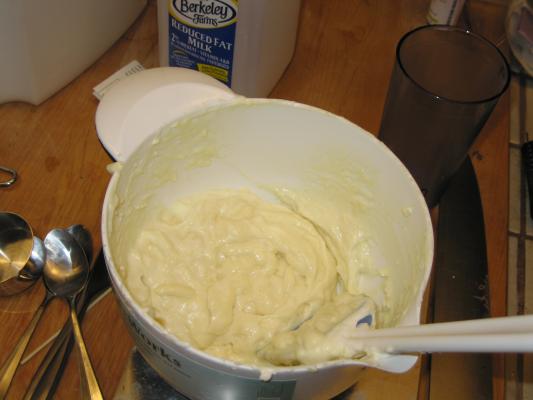 Fill puffs with pastry bag by poking the tip of the pastry bag into the bottom of the puff, and squeezing it full! There's more room in there than you'd think! (or cut off tops and fill with spoon - but much more fun with "poke and squirt" technology!)
CHOCOLATE ICING:
For the icing, melt the chocolate and 2 tablespoons butter in a medium saucepan over low heat.
Stir in 1 cup confectioners' sugar (mixture will clump up - don't panic!) and 1 teaspoon vanilla.
Stir in hot water, one tablespoon at a time, until icing is smooth and has reached desired consistency.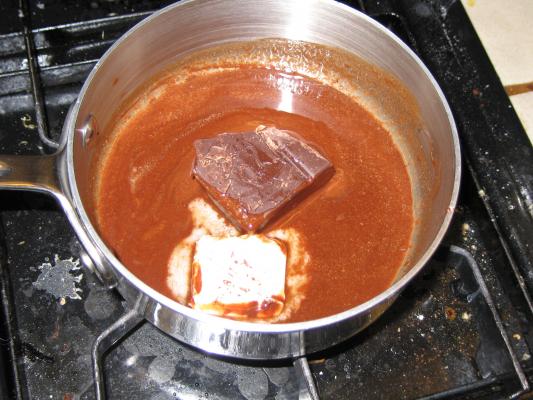 Remove from heat, cool slightly, and dip puffs into the mixture, or drizzle over filled eclairs.
If dipping, you may need to reheat the chocolate periodically, and maybe add a smidge more water and stir again. Refrigerate until serving. I froze them, since I was going to transport them. They were thawed by the time I got there, and eaten in rapid order.)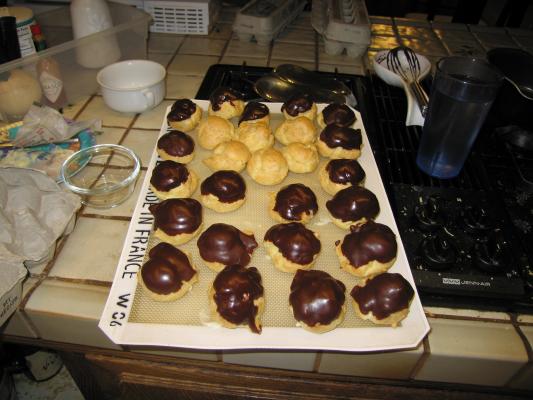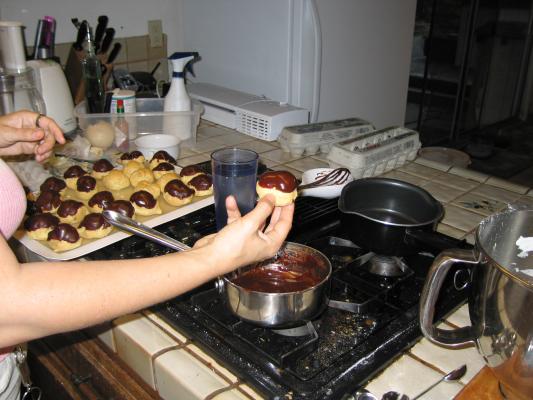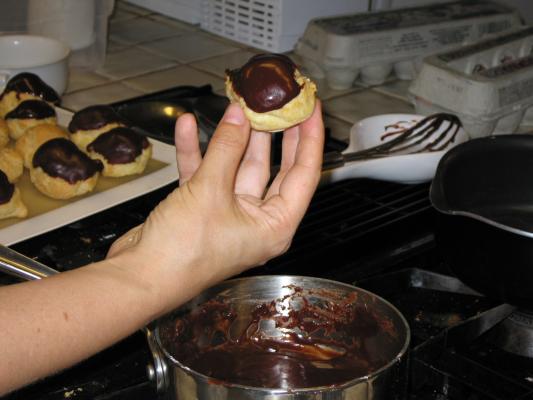 Make more than you think you'll need. This made about ... 30, maybe a couple shy of that... oh wait, I just counted in the picture! ... 26 or 27, yeah ... something like that. I left a few at home with Aidon, and we did have to test them before inflicting them on the masses ... but wow, I've never seen anything disappear so fast!
Enjoy!