Horseradish encrusted salmon medallions with garlic spinach with a mustard dill sauce
We actually started with the soup, but it didn't photograph well. So imagine a bowl, with a really fabulously rich broth, infused with garlic, but not overpoweringly so. It was laced with sautéed shitake mushroom slices, and a bit of egg with grated Parmesan reggiano for body and flavour. The house smelled GOOD, I can tell you that! Six heads of garlic will do that to a place! The soup was based on a Cook's Illustrated garlic soup recipe. Neither of us had made it before, so this was our "experimental" dish. We improvised the shitake mushrooms - that wasn't in the original recipe. We were both highly pleased with this dish! We even high-fived ourselves at the table over it!
Then we had the salmon. I made something similar a couple weeks ago, from an idea I got off Gary Danko's restaurant website. When we ate there just the night before we made this meal, I had to order and try his version. The horseradish encrusting was REALLY good, and had surprisingly little to no bite to it at all - but was REALLY flavourful, with a lovely crispy texture. So for lunch I made the salmon pretty much right from his recipe. Poor Johanna did the horseradish grating, and nearly burned her eyes out in the process - thanks, cuz ... sorry about that... at least I chopped (most of) the onions, once those started nailing your eyes! ;)
The recipe is in his tutorials if you want to try it - and he has a flash movie for it, too. My rendition of that recipe was a huge hit here! The rest of the dish, and the presentation was mine/ours though, not Gary's. The mustard dill sauce was half from a recipe, and half improv - and just as popular as it was two weeks ago. And we ALMOST abandoned the spinach at the last minute, but I'm so glad I decided to just do it - it made the dish complete! This course was mostly stuff I had done before, only the horseradish was new, plus the combination/presentation.
We plated all the food in the kitchen (which has an open pass-through to the dining room, so we could still chat/see everyone while in there.) And Aidon, Johanna, and I served stuff up. That worked out SO well! Everyone TOTALLY hated the salmon - look at the stuff left on those plates! ;) </sarcasm>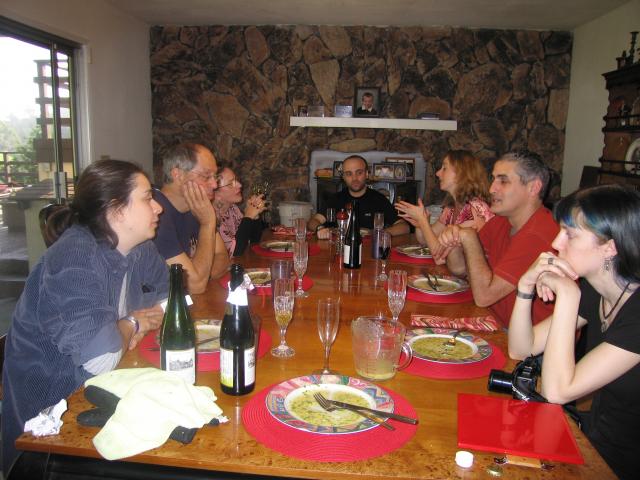 Left side of the table, nearest to farthest: My sister Deborah, my dad, my step-mom Toni
Across from me: My darling, wonderful, ever-supportive, cleaner of a thousand dishes, husband Aidon
Right side of the table, farthest to nearest: Liza (David's girlfriend), David (my cousin, not my kid, as if that wasn't completely obvious), my cousin Johanna
After the salmon, we finally had enough latkes to give everyone two. My step-mom is avoiding carbs, so she didn't want any ... on her own plate. She grabbed from my dad's plate, in typical Toni fashion *grins* ... there are fewer carbs when they're taken off someone else's plate, didn't you know that? The latkes are Johanna's mother's recipe, and she had made them before, and believe it or not, I never had. They came out great - even if they did necessitate an emergency trip to K-mart to get a box grater - sorry about that cuz! And sorry I didn't tell you more accurately where the Target was - that would have been a MUCH better place than the zoo that was K-mart! Mmmm... latkes and sour cream!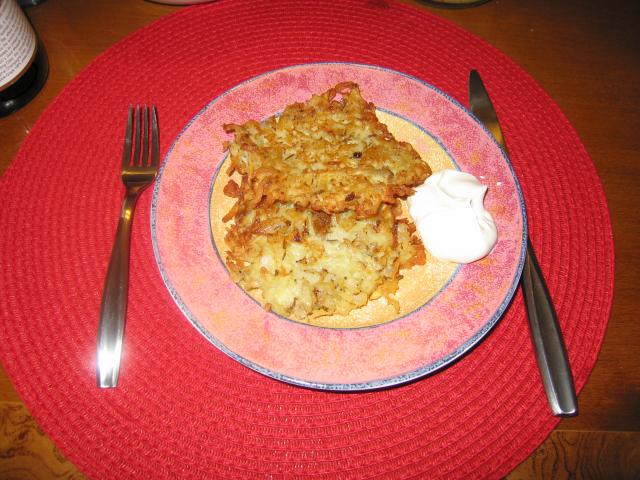 By common agreement, the salad bar was ditched in favour of being able to enjoy dessert. Salad is everyday food, and this wasn't a special salad or anything. And now I have easy-salad, all week long - woo hoo! The pears poached for quite a while earlier in the day, and really looked beautiful. I did a little experiment on a couple of them, but only really finished the experiment on one. For most of them, I peeled them all the way. On two of them, I only took some of the peel off, intending to peel the rest after they were done and cooled. I did one in a stripey pattern, and one in a swirled. I should have finished the swirled one too, but I only finished the stripey one. It was really neat, and I think the swirly one would have looked way way cool ... next time :) I've done poached pears before and I already knew they were a favourite of certain family members - plus they're pretty easy. And tasty!
The whole plate of them before I plated them individually: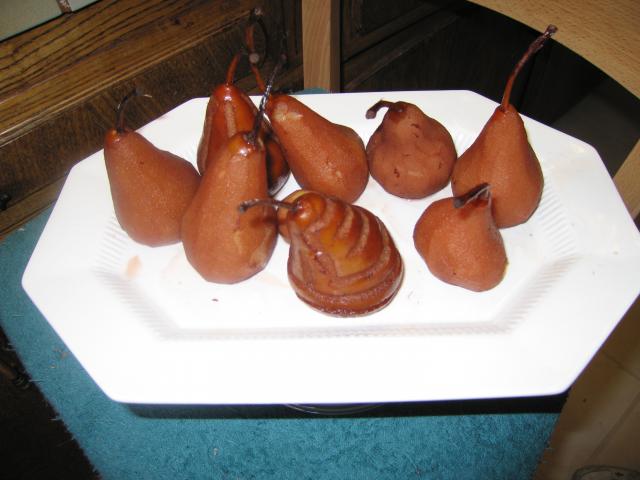 Swirly one is obvious in the front - and the stripey one is in the back left corner. Right BEHIND the swirly one is a hidden dinky apple. That's actually the kind of apple: "dinky" ... there's a story about this apple. The story is rather an embarrassing one, for me, but I'll tell it anyway.
Last night at Gary Danko's Johanna had quail with quince - which is, apparently, a kind of tiny apple. We were all trying each others' food, and she passed me some of her mushrooms, and a (poached?) quince. I tasted the mushroom, and said to Aidon "mmmm... oh love, you should try this!" and so Aidon also tasted the mushrooms. Then I speared the quince, and took a bite out of it, and said "mmmm..." and I'm not quite sure where my head was at (hangs head in shame) but I then ... put the rest of the quince in my mouth. That's right. I didn't offer the object of my "mmmm" to the love of my life, who was sitting INCHES from me, and with whom I had just shared my tiny tasting of mushrooms - I scarfed it. And of course, everyone immediately laughed ... and I turned to Aidon who had his mouth half open, clearly in anticipation of trying the delicious and mysterious sounding quince, and my face fell, even as I was chewing. I apologized profusely, turned to see if maybe there was another taste available, and then Johanna piped up "oh ... and that was the last one." As if that weren't bad enough - putting a quince and my own foot in my mouth at the same time, I had to put my foot in there again later! We were talking about the lunch the next day, and I mentioned the poached pears. Which Aidon doesn't like. I can't recall the words that made everyone laugh at me (deservedly so) but suffice it to say that I came off looking like I was completely ignoring my husband's dessert needs. Bad wife!
Okay - back to today. We saw these teeny, tiny, "dinky" apples at the natural grocery store today, and I determined that I would poach one, and replace his lost quince, AND supply him with dessert - all at once! He wasn't supposed to see it until it was served, but he was in the kitchen as we were plating the dessert, so he did ;) But I stand firm that I redeemed myself - harumph! I snapped this pic before I put the sauce on it all - Aidon had to taste the sauce first, to be sure he liked it. He came back for more of it, so ... yeah ;)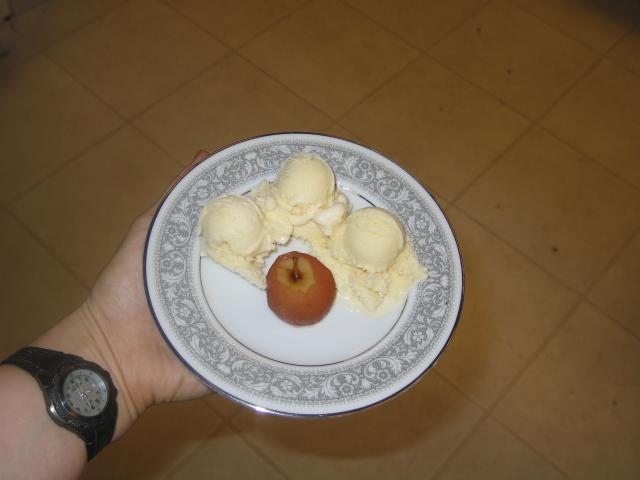 Pear with one scoop of ice cream (low carbs that way, right? Yes, this was Toni's ;))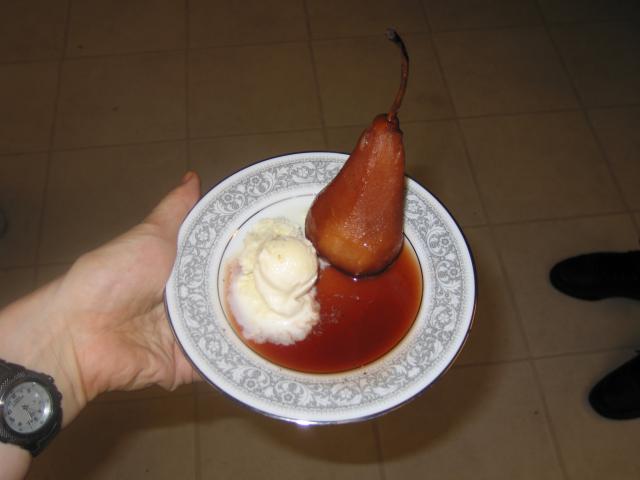 Pear with two (mini) scoops of ice cream: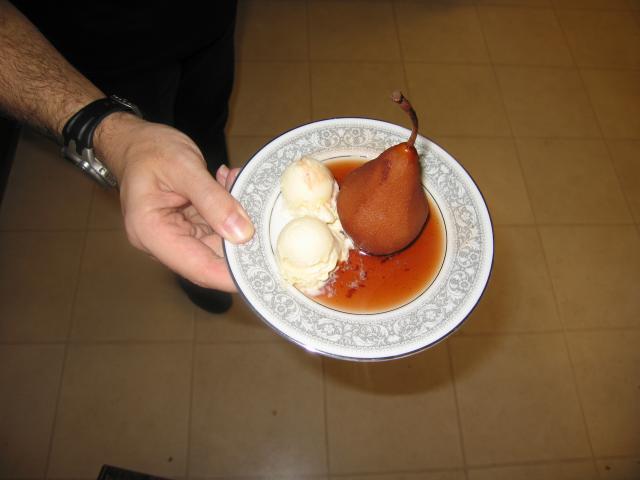 This is the stripey one - it's definitely nifty looking!
I learned something ... to get a really good picture of food, it should be on the table, with a uniform background, in a non-white dish, and the camera shouldn't be too far above the plate.
Look at the difference: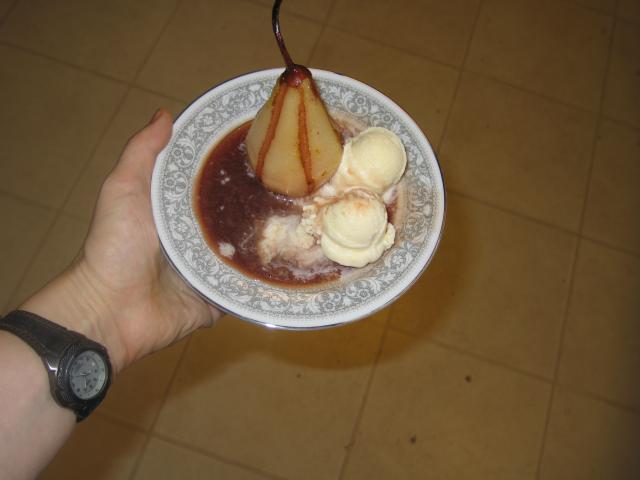 compared to: (The ice cream is already melting into the sauce though (the sauce was hot - not a surprise))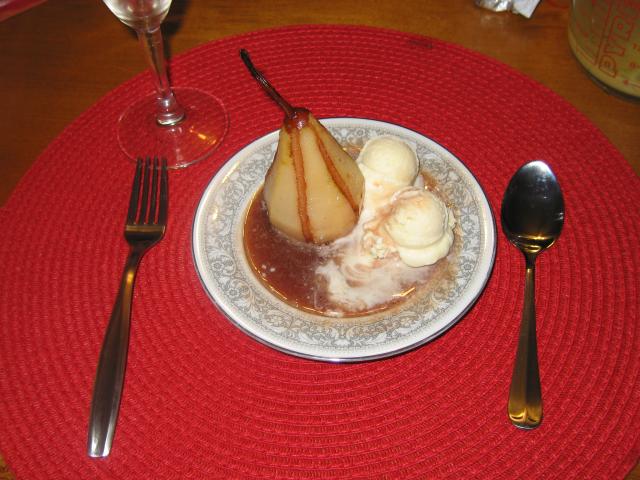 Phew! We hung around chatting for a long time afterwards, and it was just good fun! Since it had been SO long since David and Johanna had seen one another, I took a pic of them to commemorate the occasion: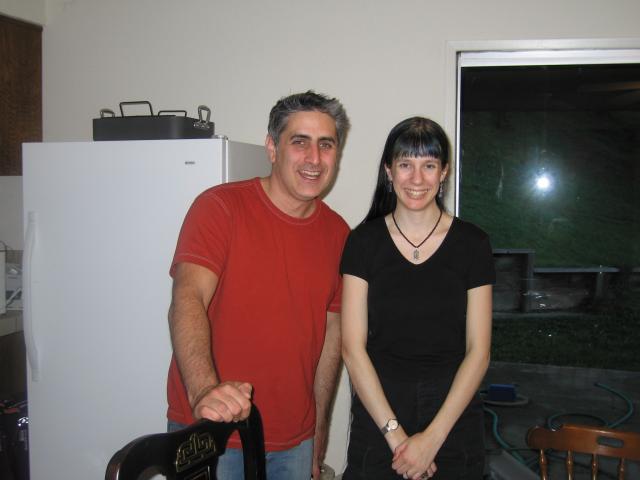 What were the big smiles about? Funnily enough, mentioning our mutual grandmother's funeral sparked that (not exactly, but close enough...) We're a weird family. I was an idiot and didn't hand my camera to anyone else - we really should have taken a pic of the three cousins (or four, if we had done it before my sister left - doh!) Oh well ... I'll try to remember next time!
And this, dear readers, is just one of the MANY reasons I love my darling husband... He helps turn things like THIS: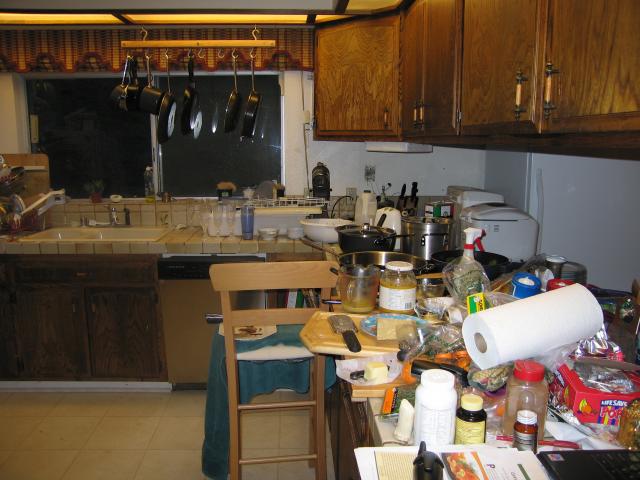 back to something we can all live with again! (That pic was taken after a lot of cleanup was already done - while the rest of us were chatting.) As I write this, it's now 11:30, and Aidon and I only just felt hungry enough to eat something - and lunch was over by 3:30 (I think.) It was a fabulous meal, and fabulous company! I'm so glad that I have a cousin who comes to stay with me, and wants to cook together and help entertain the rest of our family! It was great fun! I hope you enjoyed the pics and story :)